Robert Harley's Bestselling Guides to High-End Audio
Introductory Guide to High-Performance Audio Systems
Foreword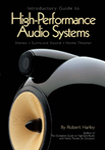 This book was inspired by my passion to tell everyone who loves music that the listening experience can be more engaging, involving, and pleasurable through a high-performance audio system. It's a well-kept secret to the general public that there's a whole category of audio equipment that can reproduce music with a depth, intensity, and listener involvement that mass-market audio products don't begin to match.

It remains a secret because the high-end audio industry, to its detriment, has focused on the hard-core audio enthusiasts rather than appealing to a broader audience of listeners who simply love music and want to hear it reproduced with the highest fidelity. My goal for this book is to make high-performance audio easily understandable and accessible to anyone who enjoys music. I approached this task with some fundamental beliefs:
Music is vitally important to the quality of our lives.
An audio system is a vehicle for exploring the world of music.
The better the quality of the reproduction, the deeper the listener's connection with the music.
Anyone can appreciate the difference between mediocre and superb sound reproduction.
A true high-end system can be assembled for not much more—and often less—than a mass-market system.
High-end audio should be accessible to anyone who loves music, not just technophiles or the wealthy.
I'd hoped that my first book, The Complete Guide to High-End Audio, would help everyone who read it to better connect with music. But at 640 pages, and with a fair amount of technical depth, it didn't quite fulfill the mission of making high-end audio accessible to ordinary music lovers.

That's where Introductory Guide to High-Performance Audio Systems comes in. In it, I've reworked much of the basic material from The Complete Guide to High-End Audio into a simpler, easier-to-digest form. I've also included sections on multichannel audio for music and home theater on the assumption that many of you will use a multichannel audio system for stereo music, multichannel music, and home theater. This new book will, I hope, reach many more music lovers, pointing them in directions that allow them to enjoy their favorite music wonderfully reproduced night after night.

Robert Harley
January, 2007

Back to the book overview