Robert Harley's Bestselling Guide to High-End Audio
The Complete Guide to High-End Audio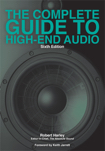 The Best Book on High-End Audio Just Got Better!
Robert Harley tells you everything you need to know to become a better listener and better buyer of quality high-fidelity components. With this book you will discover how to get the best sound for your money; how to identify the weak links in your system and upgrade where it will do the most good; how to set up and tweak your system for maximum performance from equipment you already own; how to read equipment reviews; and most of all, how to become a more perceptive and appreciative listener. This book makes hi-fi more fun!

In 15 fact-filled chapters and three appendixes—covering everything from the basics to technical matters (in plain English!)—this book helps you reap the rewards of Robert Harley's more than 30 years of reviewing experience, saving you time, trouble, trial and error.

Written for beginners and experienced listeners alike!
These are just a few of the secrets you will learn:
High-end sound on a budget; how to do it cheap and still do it right
Five system set-up mistakes and how to avoid them
Six things you should know before investing in a music server
How to make your speakers sound up to 50% better—at no cost
Why all "100W" amplifiers don't sound the same
How to find the one loudspeaker in 50 worth owning
Ten turntable tweaks—two are free
Completely updated and expanded with the latest information on computer audio, music servers, wireless streaming, networked audio, high-resolution downloads, portable audio, headphones, desktop audio, the new vinyl revolution, and much, much more!
More than 250,000 copies sold in five languages.

"The best book ever written about hi-fi…All your answers are here, written in the graceful, meticulous, easy to understand prose of a genuine master" —Jonathan Valin, The Absolute Sound

"Its impressive breadth and depth make it a valuable guide to audio's gold mine…You'll learn valuable things from Harley's book, not just at first reading, but as you come back to it over and over." —Peter Moncrieff, International Audio Review

"Before you make a mistake, buy Robert Harley's book." —Sam Tellig, Stereophile

Critical acclaim

Table of Contents (PDF, 192KB) | Preface (PDF, 122KB) | Index (PDF, 180KB)

$44.95 plus shipping

7" x 10"

593 pages

More than 200 photos and illustrations

550+ term glossary