HiFiBooks.com
Robert Harley's Guides to High-End Audio and Home Theater
The Complete Guide to High-End Audio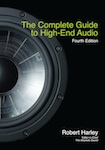 The Best Book on High-End Audio Just Got Better!
Now in a newly revised, updated, and expanded Fourth Edition, Robert Harley tells you what you need to know to become a better listener and better buyer of quality high-fidelity components.

The Latest Information
Completely revised and updated with the latest information on high-resolution digital audio, music servers, computer-based audio, downloadable music, Blu-ray Disc, new advances in loudspeaker technology, the vinyl revolution, and more. Also includes an entirely new chapter packed with insider secrets on setting up an audio system for maximum performance.

A Friendlier-Than-Ever Voice
More than a consumer guide, this book is a celebration of high-quality music reproduction in the home. Its unique blend of the technical with the aesthetic shows you how to enjoy music with a newfound depth and passion.

And What a Track Record!
The world's best-selling book on high-performance audio
More than 100,000 copies sold in four languages
Critically acclaimed worldwide as the essential reference on high-quality music reproduction
With this book, you will discover how to get the best sound for your money; how to identify the weak links in your system and upgrade where it will do the most good; how to set-up and "tweak" your system and get maximum performance from equipment you already own; how to read equipment reviews; and, most of all, how to become a more perceptive and appreciative listener. This book makes hi-fi more fun!
In 16 fact-filled chapters and three appendices - covering everything from the basics to technical matters (in plain English!) - this book helps you to reap the benefits of Mr. Harley's years of reviewing experience, saving you time, trouble, trial and error. Your knowledge is as important as your money, maybe more so, because it's possible to assemble a wonderfully satisfying stereo system for far less money than you might think.
Only $34.95
7" x 10", 552 pages
More than 250 photos and illustrations
550+ item glossary of audio terms
Buy online
|
Critical acclaim
|
Table of contents
|
Preface to the fourth edition
These are just a few of the secrets you will learn:
How to join the high-resolution digital revolution
How to choose a music server
What reviewers don't tell you about tubed amplifiers
Five home theater mistakes and how to avoid them
How to make your speakers sound up to 50% better in 10 minutes - at no cost to you
How to turn your iPod into a high-quality music server
Ten turntable tweaks. Two of them are free
How to forget about the sound and enjoy the music
How to put together your own PC-based music server
High end sound at low prices; how to do it cheap and still do it right
How to find the one loudspeaker in 50 worth owning
Why it sounded good in the showroom but doesn't at home
Why all "100 watt" amplifiers don't sound the same